Welcome to Cascade Aqua Farms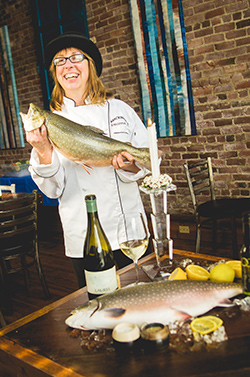 Cascade Aqua Farms is an eco-friendly company maintaining sustainable aquculture practices in Washinton Stae since 1980. We have discoverd the perfect conditions for producing Arctic Char, using the natural icy cold water from snowmelt high in the Cascade Mountains. We have also developed an ideal system for raising consistently strong, healthy fish, and delivering them fresh, all year round, to wholesale suppliers.
Farm-Raised Arctic Char
Arctic Char are a member of the Salmonid family, which includes both salmon and trout, though they live up to 25 years, instead of dying after spawning, as salmon do. They are a native of the sub-polar lakes surrounding the Arctic circle, and can only survive in unspoiled, naturally cold water. The search for Arctic Char has invariably taken anglers to remote areas of Alaska, Canada, Greenland, Iceland and Siberia. Commercial fishing of the species has been minimal, mainly due to practicality but access is growing due to clean, sustainable farming of these extraordinary fish.
The high fat content of the Arctic Char, necessary for its life in frigid waters, means lots of flavor and moist texture. Though often compared to salmon or trout, Arctic Char has its own distincitive qualities: delicate light pink flesh that is mild, buttery and sweet--and a rich source of omega-3 fatty acids.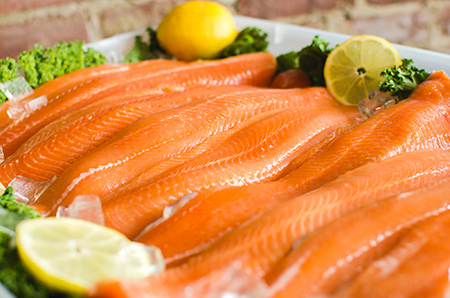 Simply Seafood Magazine:
Aroma: sweet, less intense than salmon
Flavor Intensity: prounounced rich, clean finish, intensely mouth filling
Flavor Quality: buttery & rich, between salmon & trout, vanilla & salt
Texture: firm, but a little soft, small flake, tender, moist
General Comments: all the pluses of salmon & none of the minuses
Contact
Feel free to contact us with any questions. We'd love to hear from you!
Telephone: 360.785.0397
Or email us!